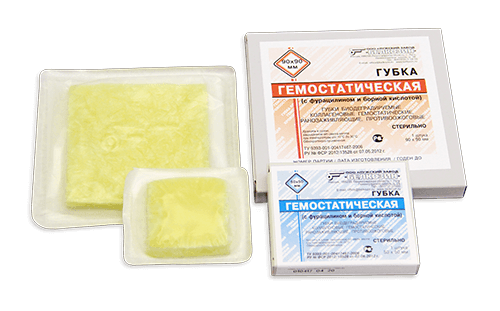 Biodegradable collagen hemostatic sponge – LLC LUGA PLANT "BELKOZIN", manufactured according to modern technology. Hemostatic sponge has a blood-stanching and antiseptic effect, stimulates the regeneration of tissues. The thickness of the plate makes it easy to simulate concealed contours when applied to damaged tissue sites. Adheres well to the wound surface. When left in the wound or cavity, it completely resolves.
Hemostatic sponge is a dry, porous yellow plate with a specific smell of acetic acid, a relief surface and a porous structure.
Hemostatic sponge is prepared from a collagen solution. The composition of a hemostatic sponge includes: boric acid and furacilin. Clinical trials were conducted on the basis of Pavlov First Saint Petersburg State Medical University, Military Medical Academy named after S.M. Kirov, Department of Emergency Surgery of St. Petersburg in Medical Academy of Postgraduate Education.
THERAPEUTIC INDICATIONS:
For surgical interventions in stationary conditions during such operations as traditional and laparoscopic cholocystectomy, hernia repair, acute appendicitis, after treatment of ruptured bruised wounds, treatment of wounds healing by secondary tension in pancreatitis, filling of defects of parenchymal organs and stopping of parenchymal hemorrhage, anastomosis cover, during operations in gynecology, otorhinolaryngology, and many other cases. The stages of inflammation occur in a shorter time. The therapeutic effect of the sponge remains for 2-3 days without replacing it. The use of a sponge does not cause censures in patients.
METHOD OF APPLICATION:
A hemostatic sponge is removed from the package observing the aseptic rules, applied to the bleeding place and pressed against it for 1-2 minutes, or tightly tampone the bleeding surface and bandage. After stopping bleeding, the plate is not removed, as it subsequently completely resolves. After being soaked in blood, the plate fits tightly against the bleeding surface, if necessary, fixed with a sticky bandage. If the bleeding does not stop, a second layer of the sponge is applied. Hemostatic effect of the sponge is enhanced if it is additionally moistened with thrombin solution. After stopping bleeding the sponge is not removed, as it subsequently completely resolves.
CONTRAINDICATIONS:
The use of a hemostatic sponge is contraindicated in case of arterial hemorrhage, individual intolerance of the nitrofuran series (furacilin, furagin). Purulent wounds, pyoderma.
PACK SIZE:
A hemostatic sponge is available with a thickness of 7±2 mm in size (50±5) × (50±5) mm and (90±10) × (90±10) mm, in individual packaging. Sterile.
SHELF LIFE: 3 years.